Tags
Aging, Batman, Bruce Wayne, comic books, Damian Wayne, Dick Grayson, Jason Todd, Nightwing, Robin, Stephanie Brown, Talia, Teen Titans, Tim Drake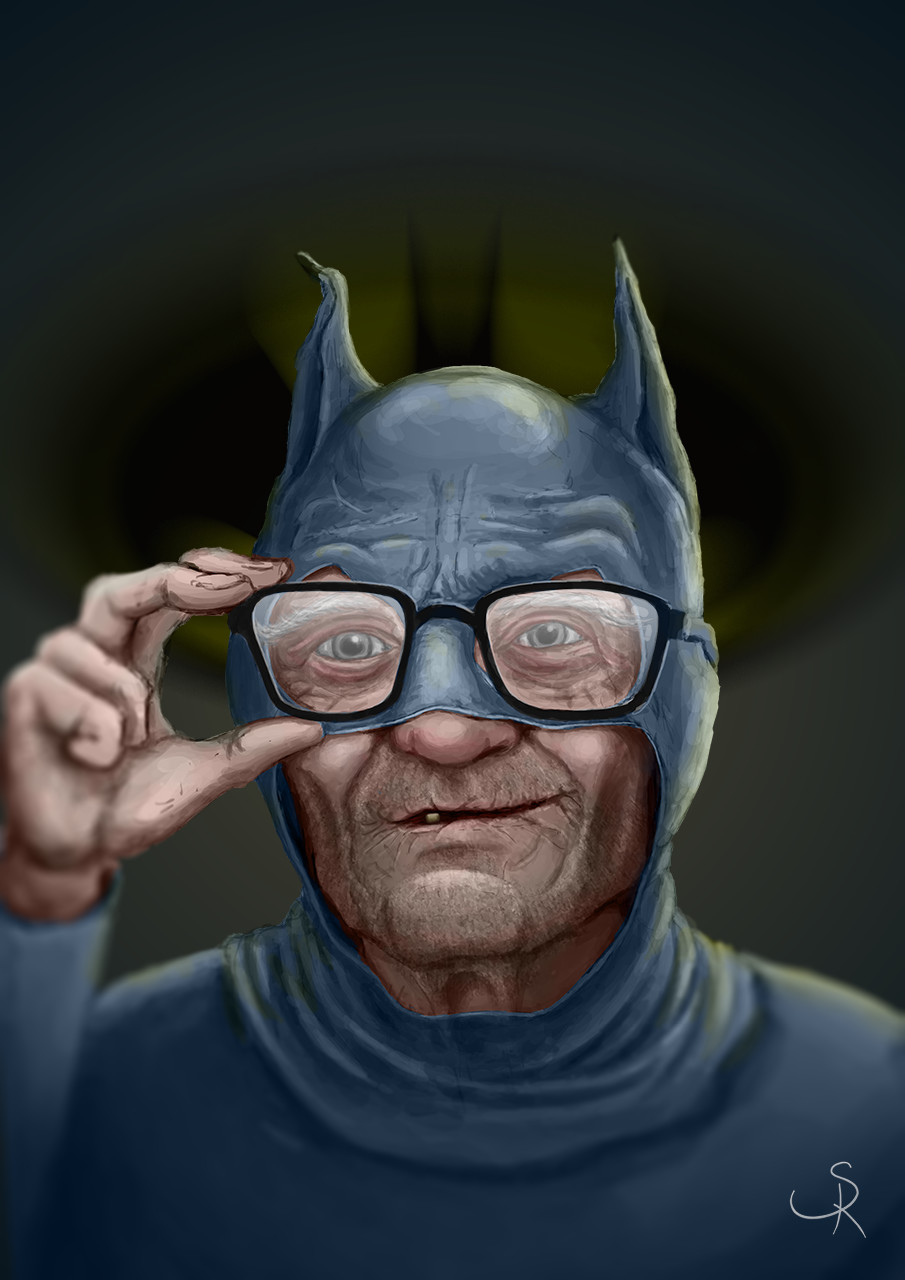 How old is this guy? (Art by Svend Richter)
How can Batman seem ageless, or at least not yet middle-aged, while his Robins keep growing up? I'm posting this question because (a) it comes up from time to time and (b) I'm an utter geek.
Here's an answer.
At age 8, Bruce Wayne watches a criminal gun down his parents in a Gotham City alley. Soon thereafter, he promises to fight crime.
Ages 8 through 15: Bruce obsessively studies and trains to build his crime-fighting skills.
Age 16: Bruce files for and achieves the status of emancipated minor. Thanks to this status, plus his muscular build, his six-foot height, and his somber, determined demeanor, he presents as an adult. He begins traveling the world to develop his abilities further.
Age 19: Bruce returns to Gotham. Soon afterward, he starts fighting crime as the Batman.
Age 20: At a circus, Bruce sees aerialists John and Mary Grayson die by gunshot. He comforts their eleven-year-old son, Dick, and takes the boy into his household. Soon thereafter, Dick becomes Batman's partner in crime-fighting, Robin.
Age 22: Robin turns 13. Shortly thereafter, he joins other teenage heroes to form the Teen Titans while continuing his adventures alongside Bruce.
Age 23: Bruce has a liaison with Talia, the daughter of Batman's enemy Ra's al Ghul.
Age 27: Robin, now 18, leaves Bruce's home to attend college. He soon drops the Robin identity to become Nightwing.
Age 28: After some solo adventuring, Bruce takes on a new Robin, Jason Todd.
Age 29: The Joker kills Jason.
Age 30: After more soloing, Bruce brings on another Robin, Tim Drake.
Age 31: Tim Drake becomes Red Robin. Tim's girlfriend, Stephanie Brown –– also known as the crime-fighter Spoiler –– becomes a new Robin.
Age 32: Stephanie stops being Robin due to injury, death, or another reason, depending on which version of continuity you want to follow.
Age 33: Bruce discovers that his liaison with Talia produced a son, Damian, who becomes the new Robin.
Age 34: Batman today. He's not as lithe and agile as at age 20 or 21, but he compensates by being tougher and more intimidating.
This timeline's not perfect, of course. It leaves out the Batman adventures that, taken together, couldn't fit in such a short time, plus the periods when Jean-Paul Valley and Dick Grayson served as Batman.
But it's a start.